FAQ
We realise that every project is different and each customer has specific requirements. Below you will find some of the most common questions relating to container projects.
If you have any other queries not shown please contact us or use our live chat and we will be happy yo assist you.
What are the payment terms?
We do have several payment options and it will depend a lot on your project and location.
For a very basic single container project the terms would be as follows
Step 1 – Free Quotation and Revisions
Step 2 – Payment for Initial Drawings & Visualisations
Step 3 – 60% Deposit of container project to confirm order and proceed
Step 4 – 30% Payment for completed container due before leaving our factory
Step 5 – 10% Final payment due on delivery, installation and handover.
For a larger Container Home with multiple units the payment terms are.
Step 1 – Free Quotation and revisions.
Step 2 – Payment for Initial Drawings & Visualisations
Step 3 – 40% Initial payment – Container Purchase & Main Cutting Work
Step 4 – 20% Second Payment – Prior to starting main internal work / Insulation / electrics etc.
Step 5 – 20% Third Payment – Prior to starting main interior decoration / tiling / painting etc.
Step 6 – 10% Fourth Payment – Prior to installing main fitted furniture / appliances and delivery.
Step 7 – 10% Fifth Payment – Upon completion of all works on site and handover.
A progress report is given to you with photos of the production process. Also you are welcome to visit our factory at any time to inspect the work progress.
CAD Drawings
If you do not want to proceed straight away and wish to have CAD drawings then we charge between 5% – 10% of the project cost. This is deducted from the final project once you proceed.
Other payment terms are available on request depending on the situation. Please contact us for more information.
How long does a container home take to build?
The duration of a container project varies depending on many factors. How complex, what location, what interior is required etc.
As a good example a typical 4 container project in Thailand would take between 12 – 16 weeks from start to finish whereas a simple 1 containe home maybe a little as 3 – 4 weeks.
We will always let you know the time scale before proceeding.
I need a quote.. what next
If you are interested in a container home then the process is VERY easy. We handle everything from start to finish.
The process of designing a container, getting a quote and finalising the interior is as follows.
STEP 1 – Getting an initial quotation
Send us an email outlining your requirements or complete the free online estimate.
We will then send you the initial quotation which will outline the scope of works and total price. This will let you know the budget you require.
Discuss any changes and ideas with you and then we will send a revised quotations.
Design CAD drawings are then needed to finalise layout and all materials etc. these are done once an order is confirmed. Or if you wish to have these done first we are happy to provide these for a nominal charge which is deducted from the final order.
STEP 2 – Proceeding & Main Steel Work
Once you have the quote and you feel it is within your budget and want to proceed the next step is to confirm the order and finalise all interior and fittings.
At this stage a small deposit is required to confirm the order.
We would need to meet with you to go over all materials, styles, fixtures and fittings , colours etc.
Based on this the Final price would be reached based on any changes for the entire project.
We will produce all CAD drawings for approval and finalise internal layouts and door window positions.
Foundation drawings are supplied (if required)
Final meeting to ensure all fixtures fittings etc correct
Main container layout is started – Main steel work / doorways / windows etc. walls ceilings, electrics, water. Etc.
Foundations works started (if required)
Customer can inspect at any time and progress reports sent.
STEP 3 – Interior
Once all layout is complete and the interior work is ready to start we require the second payment.
Final meeting to confirm all interior design.
Interior decoration works commence – Tiling, fixtures & fittings, furnishings, floor coverings etc.
STEP 4 – Delivery & Installation
If the project is done on site then this step would not all apply to you, however if the project is done at our premises then the normal procedure would be as below.
Once all main work is complete the 3rd payment is required before delivery to your site.
Delivery and on site installation is then started. We will work with any other site contractors and ensure all amenities are connected and the project is complete.
Once complete and you confirmed all work is done as agreed the final payment is then due.
STEP 5 – Move in & Enjoy!
Are Container Homes Eco Friendly?
Yes. Shipping containers are laying empty all over the world and by using these containers to build structures you are reducing the surplus stock as well as not requiring more raw materials.
Many container projects also ensure Eco Friendly materials are used in the construction.
Can I Build My Own Container Home?
Yes. If you want to build your own property then it is not much more complicated than a regular house. The MOST IMPORTANT thing is to ensure the container structural integrity is maintained.
The internal finishing of the container homes is very similar to a regular home therefore if you have construction experience it can be relatively easy. Electrics and plumbing should be carried out by a qualified tradesman.
If you do decide to do your own project then we can help you make the right decisions and assist with whatever you need.
Container Kings provide a full solution and have over 25 years experience in the construction and steel business and we specialise in converting shipping containers, therefore if you use us you know you are getting a high quality product which is 100% safe. 
Are Shipping Container Homes Dangerous To Live In?
As soon as people find out about container homes, one of their first thoughts tends to be, well are these things safe? This is a perfectly valid question, as the majority of people who are looking to build a container home will have children, so it certainly cannot be dangerous for them.
As long as you follow the basic guidelines for construction (as with any property) container homes are perfectly safe to live in. In some cases even safer than a traditional house especially in Storm or Earthquakes.Take a look at our BUILDING PROCESS pages to see whats involved.
Where Can I Buy Shipping Containers From?
Container Kings Thailand have a full range of Recycled containers available for wholesale. Price varies depending on condition.
Grade Levels
Grade A (Excellent) = Containers come as delivered. Outer & Inner paintwork has been re done. Outer skin has been fully repaired. All parts are complete. Inner floor / Walls in very good condition.
Grade B (Good) = Containers come as delivered. Outer & inner paintwork is fairly good. Outer skin may have some slight damage, rust or dents. All parts are complete. Minor damage to inner floor / walls
Grade C (Poor) = Containers come as delivered. may be fairly rough, outer skin may have damage, rust or dents. Some parts may be missing. Inner floor may be damaged etc.
Recycled Container Prices
20 Ft GP Standard Container: Grade C = Start From THB 28,000 for a grade C / Grade B = 38,000 / Grade A = THB 45,000
40 Ft GP Standard Container : Grade C = THB 35,000 / Grade B = 45,000 / A = THB 55,000
 40 Ft Hi Cube Container : Grade C = THB 39,000 / Grade B = 49,000 / Grade A = THB 59,000
45 Ft Hi Cube Container : Grade C = THB 53,000 / Grade B = 63,000 / Grade A = THB 73,000
** NOTE – Container prices vary like any other commodity and prices will depend on the current steel scrap prices as well as the wholesale container price index. The above prices are a rough GUIDE only. Please check with us for the latest prices.
Are Container Homes Storm & Earthquake Proof?
In a nutshell Yes!
Container homes are solid blocks of steel and extremely robust. When arranged in either single units or multiple units connected, they can withstand 100 MPH winds on a foundation, or 175 MPH winds when easily anchored with pylons. This means they are extremely solid in Tornado's or Hurricanes.
Earthquakes
As a solid unit the vibration or shaking will not make the container break. The contents may be disturbed but will not fall down or crumble like a traditional building. Even in a direct hit, the structure may possibly roll around a little but certainly not collapse. It would be the most perfect safety cocoon in an Earthquake. It would be at least 100 times safer and stronger than a conventional housing structure. …in any earthquake, we would much rather be inside a Container King home than a normal home or office.
Who wants to live in a home that looks like a Cargo Container?
Most of the homes do not look like a Shipping Container once completed. The ISO Container is only the super-structure shell. It can be covered with any surface,  Wood, stucco, vinyl siding, or anything.
Second, the Cargo Container look is also becoming a bit trendy and some prefer all or part of the home to remain natural. …it can be any look you want when finished as with any house or property.
The interiors can be as luxurious or simple as you like. Its just down to your imagination
How Do I Insulate My Shipping Containers?
Without a doubt insulating your containers is one of the most important aspects of the build. If you are living in this in Thailand then insulating it again st the heat and making it cool inside is fairly easy. There are so many different options available for insulation – spray foam, panels, ceramic paint- the list goes on. Have a look at our BUILD PROCESS pages to see the various options.
All Container King Units are insulated with foam to help keep the interior cool for the Thailand Climate.
If you don't insulate, or get the insulation wrong, then your container home is going to be pretty unbearable- it will be freezing cold during the winter and too hot during the summer.
How Long Will My Shipping Container Home Last For?
You should expect your containers to last for at least 25 years without any problems.
If you maintain the containers and keep on top of any rust then you can expect your containers to last longer. In addition to this, if you clad your containers with an external layer, such as wood, then you can expect your containers to last even longer.
The main thing that will reduce your container's lifespan is rust, at Container Kings all our projects are coated with an anti rust primer before final painting. To help extend the life of the containers you need to make sure you keep an eye on the surfaces and treat any rust as and when it occurs.
Where Can I Find Shipping Container Home Plans?
This is one of the main questions we are asked. We have a number of plans available for free ranging from small houses to large projects.
Most homes are specially designed for customers therefore we have our FREE ONLINE CAD Software and also our professional DESIGN SERVICE to help you design your home. Simply contact us now and we will be happy to work with you on your floor plan.
How Expensive Are Shipping Container Homes?
One of the main reasons why people build shipping container homes is because of their affordability. Container homes & projects vary in price depending on your requirements and the interior standards.
A bare container without anything done will start at around THB 30,000 – 45,000 (USD $850 – $1,500), you then need to rust proof the unit, add flooring, walls, plumbing, electrics and all the other things to turn it onto a home.
A small container room can be as cheap as THB 60,000 ($1700) fully completed. A typical container home can cost between $10,000 – $40,000 depending on the internal fittings and layout.
A Rough Guide To Pricing
As a basic "Rough Guide" in Thailand you should budget around THB 10,000 – THB 12,000 PER SQM for a full container home with doors and windows plus internal gypsum walls with full electrics and water pipes plus all internal fittings such as fitted bathroom / kitchen and AC Units.
Do I need proper foundations?
The foundation for the containers will depend on the project and location. All units need a good solid base to sit on.
The two major factors that need to be considered when designing your foundation are cost and what's required structurally.
To calculate what's structurally required it is best to consult with a qualified builder or engineer, however both your soil type and the amount of containers you are planning on using have a large impact here.
If you are building on a soft soil type then you will need a deep foundation type such as pile foundations. In Thailand there are certain regulations for each zone on how deep these should be.
If you're building on a hard soil type, you can use minimal foundations because the majority of your containers' weight will be distributed onto the existing hard ground.
Sometimes people prefer to 'over-spec' their foundation, which is where you make your foundation stronger than necessary, either for peace of mind or because you prefer that particular style of foundation.
Ultimately though, the decision will revolve around cost, design and what's structurally required
Types of Foundation
Typically any foundation which is used in 'traditional' home construction can be used for shipping container home foundations.
These can be classified into either shallow or deep foundations.
Shallow foundations are laid very near to the ground level, as opposed to deep foundations which can be laid at depths of up to 10 meters.
The main types if foundations are :-
Concrete Piers
Slab On Grade / Cement Slab
Pile Foundations
Concrete piers are a type of shallow foundation and are one of the simplest and cheapest routes to go. In their basic form, they are concrete cubes which have reinforced steel bars within them. A reinforced steel bar is either a steel bar or a mesh of steel wires and is used to strengthen the concrete.
Cement Slab (also known as Slab-on-Grade) foundation is more time-consuming and more expensive than a pier foundation, but it is an exceptionally good foundation to use on softer soil types. We often see the raft foundation used in warmer climates where freezing isn't a concern. Its advantages are that it's quick and easy to build; also because there are no hollow spaces in the foundation they are less vulnerable to termite infestation. Shuttering can be laid in the shape of the slab required and cement with rebar can then be poured.  The disadvantages of a raft foundation are the lack of access to utility lines once the concrete has hardened and there is potential for heat losses where ground temperatures drop below the interior temperature.
Pile foundations are used when the soil type is too weak to support a concrete base- they are the most expensive type of foundation. Piles (which are normally cylindrical solid steel tubes or cement pillars) are hammered into the ground through the soft soil until the piles reach more suitable load bearing ground. Once the piles are secured in place they are traditionally capped with a block of concrete. So once you have secured all your piles you end up with a grid system of concrete caps which above ground look visually similar to concrete piers.
If you are unsure of what to use then ask us.
Will I need an architect or engineer?
If you're making cuts and major changes to the container, it's probably a good idea to consult with experts. The long, vertical walls on a container are load bearing and will need reinforcement if cut out for windows or doors. Also when joining containers for larger projects load and stress factors need to be considered to ensure a safe structure.
Planning and installation of electrics and plumbing should be done by a professional, especially if you need to pass local permit and planning requirements. All of Container Kings Units are wired to EU regulations and international standards.
What are the Dimensions of the Shipping Containers?
The Dimensions of the shipping containers are shown in the chart below.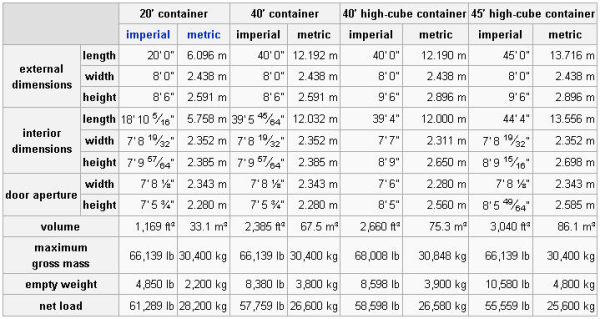 How am I going to get the container onto the property?
An empty 20-foot container weighs 2,200kg and is 6m long / a 40ft weighs 3,800 Kgs and is 12m long therefore you need to plan the delivery and placement very well.
Delivery is normally done by a 10 wheel truck and you will need to ensure you have a crane on site ready to lift the containers into place. Please make sure you have suitable room for a large lorry to maneuver and solid ground to avoid getting stuck.
Most areas in Thailand have a crane hire for around THB 6,000 – 10,000 per day.
For more helpful advice please see our BUILDING PROCESS page.
Do I Need Planning Permission?
In Thailand the official answer is YES. You need the exact same permission as you would with any home. Planning applications must be submitted to the local authority together with plans signed by 3 notaries (Architect, Structural Engineer, Local Councillor)
Many areas of Thailand will also have regulations on the type of foundations required for a particular area.
If you are located on your own land in an area of the countryside then the rules will be a lot more flexible and maybe no one will pay much attention, however if you are based in a major city then any construction work would likely be visited by a local inspector within a few days.